Project Description
Public­ations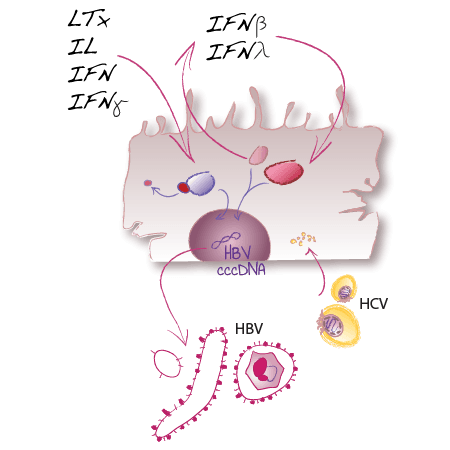 TP06:
Lymphotoxin β receptor signalling-dependent control of virus clearance in chronic hepatitis B virus and hepatitis C virus infections
Virus infections of the liver induce host immune responses and liver inflammation. Recently, we have shown that signaling through the Lymphotoxin β receptor (LTβR) on hepatocytes supports hepatitis B virus (HBV) clearance. Here, we focus on studying the exact cell type(s) expressing LTβR ligands (Lymphotoxin, LIGHT) and their role in supporting antiviral responses and viral clearance. Moreover, we aim to analyze the molecular mechanisms inducing LTβR ligand expression on T-cells and whether manipulation of LTβR ligand expression on T cells alters migration behavior, life span and exhaustion state in vivo. Our data will lead to novel insights how immune-cell derived expression of LTβR ligands and manipulation thereof support viral clearance and T-cell function.
Roy S, Hooiveld GJ, Seehawer M, Caruso S, Heinzmann F, Schneider AT, Frank AK, Cardenas DV, Sonntag R, Luedde M, Trautwein C, Stein I, Pikarsky E, Loosen S, Tacke F, Ringelhan M, Avsaroglu SK, Goga A, Buendia MA, Vucur M, Heikenwalder M, Zucman-Rossi J, Zender L, Roderburg C, Luedde T. 2018. microRNA 193a-5p Regulates Levels of Nucleolar- and Spindle-associated Protein 1 to Suppress Hepatocarcinogenesis. Gastroenterology. 2018 Aug 27. pii: S0016-5085(18)34918-7. doi: 10.1053/j.gastro.2018.08.032. (Epub ahead of print)
Lorentzen A, Becker PF, Kosla J, Saini M, Weidele K, Ronchi P, Klein C, Wolf MJ, Geist F, Seubert B, Ringelhan M, Mihic-Probst D, Esser K, Roblek M, Kuehne F, Bianco G, O'Connor T, Müller Q, Schuck K, Lange S, Hartmann D, Spaich S, Groß O, Utikal J, Haferkamp S, Sprick MR, Damle-Vartak A, Hapfelmeier A, Hüser N, Protzer U, Trumpp A, Saur D, Vartak N, Klein CA, Polzer B, Borsig L, Heikenwalder M. Single cell polarity in liquid phase facilitates tumour metastasis. Nat Commun. 2018 Feb 28;9(1):887. doi: 10.1038/s41467-018-03139-6.
P Lucarelli, M Schilling, C Kreutz, A Vlasov, ME Boehm, N Iwamoto, B Steiert, S Lattermann, M Wäsch, M Stepath, MS Matter, M Heikenwälder, K Hoffmann, D Deharde, G Damm, D Seehofer, M Muciek, N Gretz, WD Lehmann, J Timmer, U Klingmüller. 2017. Resolving the Combinatorial Complexity of Smad Protein Complex Formation and the Link to Gene Expression. Cell Systems, accepted
Yuan D, Huang S, Berger E, Liu L, Gross N, Heinzmann F, Ringelhan M, Connor TO, Stadler M, Meister M, Weber J, Öllinger R, Simonavicius N, Reisinger F, Hartmann D, Meyer R, Reich M, Seehawer M, Leone V, Höchst B, Wohlleber D, Jörs S, Prinz M, Spalding D, Protzer U, Luedde T, Terracciano L, Matter M, Longerich T, Knolle P, Ried T, Keitel V, Geisler F, Unger K, Cinnamon E, Pikarsky E, Hüser N, Davis RJ, Tschaharganeh DF, Rad R, Weber A, Zender L, Haller D, Heikenwalder M. 2017. Kupffer Cell-Derived Tnf Triggers Cholangiocellular Tumorigenesis through JNK due to Chronic Mitochondrial Dysfunction and ROS. Cancer Cell. 31(6):771-789.e6. doi: 10.1016/j.ccell.2017.05.006.
Michler T, Große S, Mockenhaupt S, Röder N, Stückler F, Knapp B, Ko C, Heikenwalder M, Protzer U, Grimm D. Blocking sense-strand activity improves potency, safety and specificity of anti-hepatitis B virus short hairpin RNA. 2016. EMBO Mol Med. 8(9):1082-98. doi: 10.15252/emmm.201506172.
Boutaffala L, Bertrand MJ, Remouchamps C, Seleznik G, Reisinger F, Janas M, Bénézech C, Fernandes MT, Marchetti S, Mair F, Ganeff C, Hupalowska A, Ricci JE, Becher B, Piette J, Knolle P, Caamano J, Vandenabeele P, Heikenwalder M*, Dejardin E*. 2015. NIK promotes tissue destruction independently of the alternative NF-κB pathway through TNFR1/RIP1-induced apoptosis. Cell Death Differ. 22(12):2020-33. doi: 10.1038/cdd.2015.69. *Co-last author.
Finkin S, Yuan D, Stein I, Taniguchi K, Weber A, Unger K, Browning JL, Goossens N, Nakagawa S, Gunasekaran G, Schwartz ME, Kobayashi M, Kumada H, Berger M, Pappo O, Rajewsky K, Hoshida Y, Karin M, Heikenwalder M*, Ben-Neriah Y*, Pikarsky E*. 2015. Ectopic lymphoid struc- tures as microniches for tumor progenitor cells. Nat Immunol. 16(12):1235-44. doi: 10.1038/ni.3290. *Co-correspodence.
Wolf MJ, Adili A, Piotrowitz K, Abdullah Z, Boege Y, Stemmer K, Ringelhan M, Simonavicius N, Egger M, Wohlleber D, Lorentzen A, Einer C, Schulz S, Clavel T, Protzer U, Thiele C, Zischka H, Moch H, Tschöp M, Tumanov AV, Haller D, Unger K, Karin M, Kopf M, Knolle P*, Weber A*, Heikenwalder M*. 2014. Metabolic activation of intrahepatic CD8+ T cells and NKT cells causes nonalcoholic steatohepatitis and liver cancer via cross-talk with hepatocytes. Cancer Cell 26:549-64. *Co-correspodence.
Lucifora J, Xia Y, Reisinger F, Zhang K, Stadler D, Cheng X, Sprinzl MF, Koppensteiner H, Makowska Z, Volz T, Remouchamps C, Chou WM, Thasler WE, Hüser N, Durantel D, Liang TJ, Münk C, Heim MH, Browning JL, Dejardin E, Dandri M, Schindler M, Heikenwalder M*, Protzer U*. 2014. Specific and non- hepatotoxic degradation of nuclear hepatitis B virus cccDNA. Science 343:1221-8. *Co-last author and co-correspondence.
Krebs K, Böttinger N, Huang LR, Chmielewski M, Arzberger S, Gasteiger G, Jäger C, Schmitt E, Bohne F, Aichler M, Uckert W, Abken H, Heikenwalder M, Knolle P, Protzer U. 2013. T cells redirected by a chimeric antigen receptor recognizing HBsAg efficiently control HBV in vivo in transgenic mice. Gastroenterology 145: 456-465.
Huang LR, Gäbel YA, Graf S, Arzberger S, Kurts C, Heikenwalder M, Knolle PA, Protzer U. 2012. Transfer of HBV genomes using low doses of adenovirus vectors leads to persistent infection in immune competent mice. Gastroenterology 142: 1447-1450.
Wohlleber D, Kashkar H, Gärtner K, Frings MK, Odenthal M, Hegenbarth S, Börner C, Arnold B, Hämmerling G, Nieswandt B, van Rooijen N, Limmer A, Cederbrant K, Heikenwalder M, Pasparakis M, Protzer U, Dienes HP, Kurts C, Krönke M, Knolle PA. 2012 TNF-induced target cell killing by CTL activat- ed through cross-presentation. Cell Reports 27: 478-487.
Wolf MJ, Seleznik GM, Zeller N, Heikenwalder M. 2010. The unexpected role of lymphotoxin beta recep- tor signalling in carcinogenesis: from lymphoid tissue formation to liver and prostate cancer development. Oncogene 29: 5009-5018.
Haybaeck J, Zeller N, Wolf MJ, Weber A, Wagner U, Kurrer MO, Bremer J, Iezzi G, Graf R, Clavien PA, Thimme R, Blum H, Nedospasov SA, Zatloukal K, Ramzan M, Ciesek S, Pietschmann T, Marche PN, Ka- rin M, Kopf M, Browning JL, Aguzzi A, Heikenwalder M. 2009. A lymphotoxin-driven pathway to hepato- cellular carcinoma. Cancer Cell 16: 295-308.
Heikenwalder M, Prinz M, Zeller N, Lang KS, Junt T, Rossi S, Tumanov A, Schmidt H, Priller J, Flatz L, Rülicke T, Macpherson AJ, Holländer GA, Nedospasov SA, Aguzzi A. 2008. Overexpression of lymphotoxin in T cells induces fulminant thymic involution. Am J Pathol 172:1555-70.