Project Description
Public­ations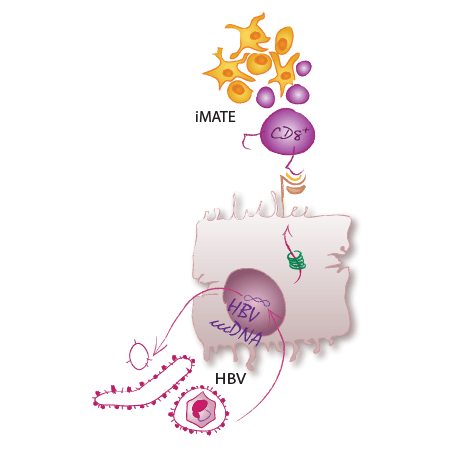 TP05:
The impact of hepatic myeloid cells on antiviral CD8 T cell immunity in the liver
We investigate the role of myeloid cells that are recruited after TLR9-L application for development of anti-HBV immunity. We explore the longevity of virus-specific CD8 T cells after TLR9-L application and whether their cytotoxic effector potential remains elevated in a memory-like state. We will characterize the mechanisms underlying the metabolic activation of virus-specific CD8 T cells through hepatic myeloid cells. Finally, we will characterize the impact of liver damage on shut-down of virus-specific CD8 T cells and how this negative feedback loop impacts on clearance vs persistence of HBV infection in hepatocytes.
Conlon TM, John-Schuster G, Heide D, Pfister D, Lehmann M, Hu Y, Ertüz Z, Lopez MA, Ansari M, Strunz M, Mayr C, Ciminieri C, Costa R, Kohlhepp MS, Guillot A, Günes G, Jeridi A, Funk MC, Beroshvili G, Prokosch S, Hetzer J, Verleden SE, Alsafadi H, Lindner M, Burgstaller G, Becker L, Irmler M, Dudek M, Janzen J, Goffin E, Gosens R, Knolle P, Pirotte B, Stoeger T, Beckers J, Wagner D, Singh I, Theis FJ, de Angelis MH, O'Connor T, Tacke F, Boutros M, Dejardin E, Eickelberg O, Schiller HB, Königshoff M, Heikenwalder M, Yildirim AÖ. Inhibition of LTβR signalling activates WNT-induced regeneration in lung. Nature. 2020 Nov 4. doi: 10.1038/s41586-020-2882-8. (TP05, TP06)Lampl S, Janas MK, Donakonda S, Brugger M, Lohr K, Schneider A, Manske K, Sperl LE, Kläger S, Küster B, Wettmarshausen J, Müller C, Laschinger M, Hartmann D, Hüser N, Perocchi F, Schmitt-Kopplin P, Hagn F, Zender L, Hornung V, Borner C, Pichlmair A, Kashkar H, Klingenspor M, Prinz M, Schreiner S, Conrad M, Jost PJ, Zischka H, Steiger K, Krönke M, Zehn D, Protzer U, Heikenwälder M, Knolle PA, Wohlleber D. Reduced mitochondrial resilience enables non-canonical induction of apoptosis after TNF receptor signaling in virus-infected hepatocytes. J Hepatol. 2020 Jun 26:S0168-8278(20)30398-6. doi: 10.1016/j.jhep.2020.06.026. (TP05, TP06, TP10, TP11, TP13, TP16, TP18) Baumann T, Dunkel A, Schmid C, Schmitt S, Hiltensperger M, Lohr K, Laketa V, Donakonda S, Ahting U, Lorenz-Depiereux B, Heil JE, Schredelseker J, Simeoni L, Fecher C, Körber N, Bauer T, Hüser N, Hartmann D, Laschinger M, Eyerich K, Eyerich S, Anton M, Streeter M, Wang T, Schraven B, Spiegel D, Assaad F, Misgeld T, Zischka H, Murray PJ, Heine A, Heikenwälder M, Korn T, Dawid C, Hofmann T, Knolle PA, Höchst B. 2020. Regulatory myeloid cells paralyze T cells through cell-cell transfer of the metabolite methylglyoxal. Nat Immunol. 21(5):555-566. (TP05, TP06) Namineni S, O'Connor T, Faure-Dupuy S, Johansen P, Riedl T, Liu K, Xu H, Singh I, Shinde P, Li F, Pandyra A, Sharma P, Ringelhan M, Muschaweckh A, Borst K, Blank P, Lampl S, Durantel D, Farhat R, Weber A, Lenggenhager D, Kündig TM, Staeheli P, Protzer U, Wohlleber D, Holzmann B, Binder M, Breuhahn K, Assmus LM, Nattermann J, Abdullah Z, Rolland M, Dejardin E, Lang PA, Lang KS, Karin M, Lucifora J, Kalinke U, Knolle PA, Heikenwalder M. 2020. A dual role for hepatocyte-intrinsic canonical NF-κB signaling in virus control. J Hepatol. 72(5):960-975. (TP05, TP06, TP11, TP13, TP14)Michler T, Kosinska AD, Festag J, Bunse T, Su J, Ringelhan M, Imhof H, Grimm D, Steiger K, Mogler C, Heikenwalder M, Michel ML, Guzman CA, Milstein S, Sepp-Lorenzino L, Knolle P, Protzer U. 2020. Knockdown of Virus Antigen Expression Increases Therapeutic Vaccine Efficacy in High-titer HBV Carrier Mice. Gastroenterology. 158(6):1762-1775. (TP05, TP06, TP18)A. Schneider A, S Kurz, K Manske, M Janas, M Heikenwalder, T Misgeld, M Aichler, SF Weissmann, H Zischka, PA Knolle, D Wohlleber. 2019. Single organelle analysis to characterize mitochondrial function and crosstalk during viral infection. Sci Rep 9(1): 8492.B. Alfei F, K Kanev, M Hofmann, M Wu, HE Ghoneim, P Roelli, DT Utzschneider, M von Hoesslin, JG Cullen, Y Fan, V Eisenberg, D Wohlleber, K Steiger, D Merkler, M Delorenzi, PA Knolle, CJ Cohen, R Thimme*, B Youngblood*, D Zehn*. 2019. TOX reinforces the phenotype and longevity of exhausted T cells in chronic viral infection. Nature 571(7764): 265-269.C. Malehmir M, D Pfister, … N Djouder, P Kubes, PA Knolle, K Unger, L Zender, B Nieswandt, M Gawaz, A Weber, M Heikenwalder. 2019. Platelet GPIbalpha is a mediator and potential interventional target for NASH and subsequent liver cancer. Nat Med 25(4): 641-655.D. Kosinska AD, A Moeed, N Kallin, J Festag, J Su, K Steiger, ML Michel, U Protzer, PA Knolle. 2019. Synergy of therapeutic heterologous prime-boost hepatitis B vaccination with CpG-application to improve immune control of persistent HBV infection. Sci Rep 9(1): 10808.E. Manske K, N Kallin, V Konig, A Schneider, S Kurz, M Bosch, M Welz, RL Cheng, B Bengsch, K Steiger, U Protzer, R Thimme, PA Knolle, D Wohlleber. 2018. Outcome of Antiviral Immunity in the Liver Is Shaped by the Level of Antigen Expressed in Infected Hepatocytes. Hepatology 68(6): 2089-2105.F. Welz M, S Eickhoff, Z Abdullah, J Trebicka, KH Gartlan, JA Spicer, AJ Demetris, H Akhlaghi, M Anton, K Manske, C Kurts, JA Trapani, PA Knolle*, D Wohlleber*, W Kastenmuller*. 2018. Perforin inhibition protects from lethal endothelial damage during fulminant viral hepatitis. Nat Comm 9(1): 4805.G. Wieland D, J Kemming, A Schuch, F Emmerich, PA Knolle, C Neumann-Haefelin, W Held, D Zehn, M Hofmann, R Thimme. 2017. TCF1(+) hepatitis C virus-specific CD8(+) T cells are maintained after cessation of chronic antigen stimulation. Nat Comm 8: 15050.H. Wittlich M, M Dudek, JP Bottcher, O Schanz, S Hegenbarth, T Bopp, E Schmitt, C Kurts, C Garbers, S Rose John, PA Knolle*, D Wohlleber*. 2017. Liver sinusoidal endothelial cell cross-priming is supported by CD4 T cell-derived IL-2. J Hepatol 66(5): 978-986.I. Hackstein CP, LM Assmus, M Welz, S Klein, T Schwandt, J Schultze, I Forster, F Gondorf, M Beyer, D Kroy, C Kurts, J Trebicka, W Kastenmuller, PA Knolle*, Z Abdullah*. 2017. Gut microbial translocation corrupts myeloid cell function to control bacterial infection during liver cirrhosis. Gut 66(3): 507-518.