Project Description
Public­ations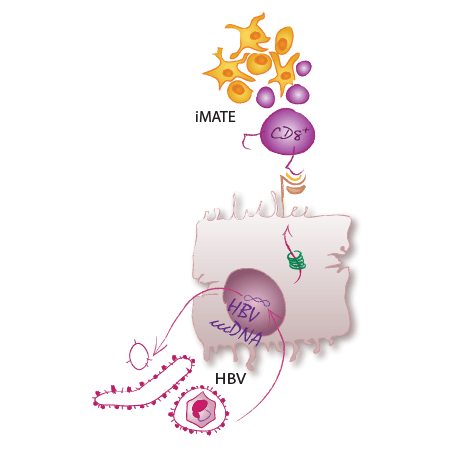 TP05:
The impact of hepatic myeloid cells on antiviral CD8 T cell immunity in the liver
We investigate the role of myeloid cells that are recruited after TLR9-L application for development of anti-HBV immunity. We explore the longevity of virus-specific CD8 T cells after TLR9-L application and whether their cytotoxic effector potential remains elevated in a memory-like state. We will characterize the mechanisms underlying the metabolic activation of virus-specific CD8 T cells through hepatic myeloid cells. Finally, we will characterize the impact of liver damage on shut-down of virus-specific CD8 T cells and how this negative feedback loop impacts on clearance vs persistence of HBV infection in hepatocytes.
A. Schneider A, S Kurz, K Manske, M Janas, M Heikenwalder, T Misgeld, M Aichler, SF Weissmann, H Zischka, PA Knolle, D Wohlleber. 2019. Single organelle analysis to characterize mitochondrial function and crosstalk during viral infection. Sci Rep 9(1): 8492.B. Alfei F, K Kanev, M Hofmann, M Wu, HE Ghoneim, P Roelli, DT Utzschneider, M von Hoesslin, JG Cullen, Y Fan, V Eisenberg, D Wohlleber, K Steiger, D Merkler, M Delorenzi, PA Knolle, CJ Cohen, R Thimme*, B Youngblood*, D Zehn*. 2019. TOX reinforces the phenotype and longevity of exhausted T cells in chronic viral infection. Nature 571(7764): 265-269.C. Malehmir M, D Pfister, … N Djouder, P Kubes, PA Knolle, K Unger, L Zender, B Nieswandt, M Gawaz, A Weber, M Heikenwalder. 2019. Platelet GPIbalpha is a mediator and potential interventional target for NASH and subsequent liver cancer. Nat Med 25(4): 641-655.D. Kosinska AD, A Moeed, N Kallin, J Festag, J Su, K Steiger, ML Michel, U Protzer, PA Knolle. 2019. Synergy of therapeutic heterologous prime-boost hepatitis B vaccination with CpG-application to improve immune control of persistent HBV infection. Sci Rep 9(1): 10808.E. Manske K, N Kallin, V Konig, A Schneider, S Kurz, M Bosch, M Welz, RL Cheng, B Bengsch, K Steiger, U Protzer, R Thimme, PA Knolle, D Wohlleber. 2018. Outcome of Antiviral Immunity in the Liver Is Shaped by the Level of Antigen Expressed in Infected Hepatocytes. Hepatology 68(6): 2089-2105.F. Welz M, S Eickhoff, Z Abdullah, J Trebicka, KH Gartlan, JA Spicer, AJ Demetris, H Akhlaghi, M Anton, K Manske, C Kurts, JA Trapani, PA Knolle*, D Wohlleber*, W Kastenmuller*. 2018. Perforin inhibition protects from lethal endothelial damage during fulminant viral hepatitis. Nat Comm 9(1): 4805.G. Wieland D, J Kemming, A Schuch, F Emmerich, PA Knolle, C Neumann-Haefelin, W Held, D Zehn, M Hofmann, R Thimme. 2017. TCF1(+) hepatitis C virus-specific CD8(+) T cells are maintained after cessation of chronic antigen stimulation. Nat Comm 8: 15050.H. Wittlich M, M Dudek, JP Bottcher, O Schanz, S Hegenbarth, T Bopp, E Schmitt, C Kurts, C Garbers, S Rose John, PA Knolle*, D Wohlleber*. 2017. Liver sinusoidal endothelial cell cross-priming is supported by CD4 T cell-derived IL-2. J Hepatol 66(5): 978-986.I. Hackstein CP, LM Assmus, M Welz, S Klein, T Schwandt, J Schultze, I Forster, F Gondorf, M Beyer, D Kroy, C Kurts, J Trebicka, W Kastenmuller, PA Knolle*, Z Abdullah*. 2017. Gut microbial translocation corrupts myeloid cell function to control bacterial infection during liver cirrhosis. Gut 66(3): 507-518.