Project Description
Public­ations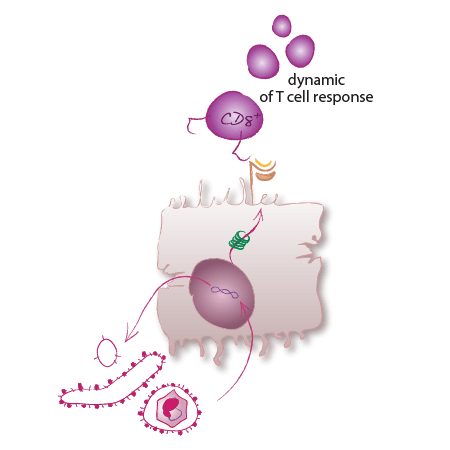 TP13:
Dynamics of antiviral immunity against hepatitis B virus in the liver
We investigate the impact of antigen levels, circulating antigen as well as presented antigens on the single cell level, on the dynamics of T cell immunity and the outcome of HBV infection. Using sophisticated HBV-infection models in genetically well-defined mice in combination with bioluminescence imaging and multispectral flow cytometry/multiparametric immunohistology, we aim to unravel the decisive factors leading to acute or chronic infection. We will also focus on metabolic, phenotypical and functional differences between virus-specific CD8 T cells in mice with either acute or chronic infection.
Winkler F, Hipp AV, Ramirez C, Martin B, Villa M, Neuwirt E, Gorka O, Aerssens J, Johansson SE, Rana N, Llewellyn-Lacey S, Price DA, Panning M, Gross O, Pearce EL, Herrmann CM, Schumann K, Hannibal L, Neumann-Haefelin C, Boettler T, Knolle P, Hofmann M, Wohlleber D, Thimme R, Bengsch B. Enolase represents a metabolic checkpoint controlling the differential exhaustion programs of hepatitis virus-specific CD8+ T cells. Gut accepted (TP01, TP02, TP04, TP05, TP13, TP20, TP21, Z03)Esser K, Cheng X, Wettengel JM, Lucifora J, Hansen-Palmus L, Austen K, Roca Suarez AA, Heintz S, Testoni B, Nebioglu F, Pham MT, Yang S, Zernecke A, Wohlleber D, Ringelhan M, Broxtermann M, Hartmann D, Hüser N, Mergner J, Pichlmair A, Thasler WE, Heikenwalder M, Gasteiger G, Blutke A, Walch A, Knolle PA, Bartenschlager R, Protzer U. (2023) Hepatitis B virus targets lipid transport pathways to infect hepatocytes,Cellular and Molecular Gastroenterology and Hepatology, 2023,ISSN 2352-345X,https://doi.org/10.1016/j.jcmgh.2023.03.011.Brugger M, Laschinger M, Lampl S, Schneider A, Manske K, Esfandyari D, Hüser N, Hartmann D, Steiger K, Engelhardt S, Wohlleber D, Knolle PA. (2022) High precision-cut liver slice model to study cell-autonomous antifviral defense of hepatocytes within their microenvironment. JEHP Rep. 6;4(56):100465. doi: 10.1016/j.hepr.2022.100465.Harbauer AB, Schneider A, Wohlleber D. (2022) Analysis of mitochondria by single-organelle resolution. Annu Rev Anal Chem (Palo Alto Calif). 13;15(1):1-16. doi: 10.1146/annurev-anchem-061020-111722Laudenbach BT, Krey K, Emslander Q, Andersen LL, Reim A, Scaturro P, Mundigl S, Dächert C, Manske K, Moser M, Ludwig J, Wohlleber D, Kröger A, Binder M, Pichlmair A. (2021) NUDT2 initiates viral RNA degradation by removal of 5′-phosphates Nat Commun. 12: 6918. doi: 10.1038/s41467-021-27239-y.Knolle PA, Huang LR, Kosinska A, Wohlleber D, Protzer U. (2021) Improving therapeutic vaccination against Hepatitis B-insights from preclinical models of immune therapy against persistent Hepatitis B virus infection. Vaccines (Basel). 16;9(11):1333. doi: 10.3390/vaccines9111333.Manske K, Schneider A, Ko C, Knolle PA, Steiger K, Protzer U, Wohlleber D. (2021) In vivo bioluminescence imaging of HBV replicating hepatocytes allows for the monitoring of anti-viral immunity viruses. 13(11): 2273. doi: 10.3390/v13112273. Namineni S, O'Connor T, Faure-Dupuy S, Johansen P, Riedl T, Liu K, Xu H, Singh I, Shinde P, Li F, Pandyra A, Sharma P, Ringelhan M, Muschaweckh A, Borst K, Blank P, Lampl S, Durantel D, Farhat R, Weber A, Lenggenhager D, Kündig TM, Staeheli P, Protzer U, Wohlleber D, Holzmann B, Binder M, Breuhahn K, Assmus LM, Nattermann J, Abdullah Z, Rolland M, Dejardin E, Lang PA, Lang KS, Karin M, Lucifora J, Kalinke U, Knolle PA, Heikenwalder M. (2020). A dual role for hepatocyte-intrinsic canonical NF-κB signaling in virus control. J Hepatol. 72(5):960-975. Lampl S, Janas MK, Donakonda S, Brugger M, Lohr K, Schneider A, Manske K, Sperl LE, Kläger S, Küster B, Wettmarshausen J, Müller C, Laschinger M, Hartmann D, Hüser N, Perocchi F, Schmitt-Kopplin P, Hagn F, Zender L, Hornung V, Borner C, Pichlmair A, Kashkar H, Klingenspor M, Prinz M, Schreiner S, Conrad M, Jost PJ, Zischka H, Steiger K, Krönke M, Zehn D, Protzer U, Heikenwälder M, Knolle PA, Wohlleber D. Reduced mitochondrial resilience enables non-canonical induction of apoptosis after TNF receptor signaling in virus-infected hepatocytes. J Hepatol. 2020 Jun 26:S0168-8278(20)30398-6. doi: 10.1016/j.jhep.2020.06.026. (TP05, TP06, TP10, TP11, TP13, TP16, TP18) Alfei F, Kanev K, Hofmann M, Wu M, Ghoneim HE, Roelli P, Utzschneider DT, von Hoesslin M, Cullen JG, Fan Y, Eisenberg V, Wohlleber D, Steiger K, Merkler D, Delorenzi M, Knolle PA, Cohen CJ, Thim-me R*, Youngblood B*, Zehn D*. 2019. TOX reinforces the phenotype and longevity of exhausted T cells in chronic viral infection. Nature. 571(7764):265-269. * co-corresponding authorsSchneider A, Kurz S, Manske K, Janas M, Heikenwälder M, Misgeld T, Aichler M, Weissmann SF, Zischka H, Knolle PA, Wohlleber D. 2019. Single organelle analysis to characterize mitochondrial func-tion and crosstalk during viral infection. Sci Rep. 9(1):8492Welz M, Eickhoff S, Abdullah Z, Trebicka J, Gartlan KH, Spicer JA, Demetris AJ, Akhlaghi H, Anton M, Manske K, Zehn D, Nieswandt B, Kurts C, Trapani JA, Knolle P*, Wohlleber D*, Kastenmüller W*. 2018. Perforin inhibition protects from lethal endothelial damage during fulminant viral hepatitis. Nat Comm. 9(1):4805. * equal contributionManske K, Kallin N, König V, Schneider A, Kurz S, Bosch M, Welz M, Cheng RL, Bengsch B, Steiger K, Protzer U, Thimme R, Knolle PA, Wohlleber D. 2018. Outcome of Antiviral Immunity in the Liver is Shaped by the Level of Antigen Expressed in Infected Hepatocytes. Hepatology. 68(6):2089-2105Schölzel K, Schildberg FA, Börner C, Geiger S, Kurts C, Heikenwälder M, Knolle PA, Wohlleber D. 2014. Cross-allocation of MHC-class-I molecules among liver sinusoidal cells facilitates hepatic immune surveillance. J Hepatol. 61(3):600-8.Wolf MJ, Adili A, Piotrowitz K, Abdullah Z, Boege Y, Stemmer K, Ringelhan M, Simonavicius N, Egger M, Wohlleber D, Lorentzen A, Einer C, Schulz S, Clavel T, Protzer U, Thiele C, Zischka H, Moch H, Tschöp M, Tumanov AV, Haller D, Unger K, Karin M, Kopf M, Knolle P, Weber A, Heikenwalder M. 2014. Metabolic activation of intrahepatic CD8+ T cells and NKT cells causes nonalcoholic steatohepa-titis and liver cancer via cross-talk with hepatocytes. Cancer Cell. 26(4):549-64. Huang LR, Wohlleber D, Reisinger F, Jenne CN, Cheng RL, Abdullah Z, Schildberg FA, Odenthal M, Dienes HP, van Rooijen N, Schmitt E, Garbi N, Croft M, Kurts C, Kubes P, Protzer U, Heikenwalder M, Knolle PA. 2013. Intrahepatic myeloid-cell aggregates enable local proliferation of CD8+ T cells and successful immunotherapy against chronic viral liver infection. Nat Immunol. 14(6):574-83.Wohlleber D, Kashkar H, Gärtner K, Frings MK, Odenthal M, Hegenbarth S, Börner C, Arnold B, Hämmerling G, Nieswandt B, van Rooijen N, Limmer A, Cederbrant K, Heikenwalder M, Pasparakis M, Protzer U, Dienes HP, Kurts C, Krönke M, Knolle PA. 2012. TNF-induced target cell killing by CTL acti-vated through cross-presentation. Cell Rep. 2(3):478-87.Hösel M, Broxtermann M, Janicki H, Esser K, Arzberger S, Hartmann P, Gillen S, Kleef J, Stabenow D, Odenthal M, Knolle P, Hallek M, Protzer U, Büning H. 2012. Toll-like receptor 2-mediated innate immune response in human nonparenchymal liver cells toward adeno-associated viral vectors. Hepatology. 55(1):287-97.Stabenow D, Frings M, Trück C, Gärtner K, Förster I, Kurts C, Tüting T, Odenthal M, Dienes HP, Ceder-brant K, Protzer U, Knolle PA. 2010. Bioluminescence imaging allows measuring CD8 T cell function in the liver. Hepatology 51: 1430-1437.