Project Description
Public­ations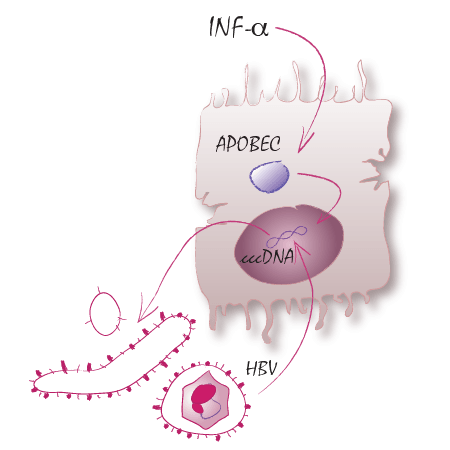 TP14:
Means of modification and degradation of hepatitis B virus cccDNA
HBV persists by establishing a covalently closed circular (ccc) DNA form in the nucleus of infected hepatocytes, which serves as transcription template for all viral RNAs. Current antiviral treatment does not target established HBV cccDNA. Cytokines induce modification and degradation of HBV cccDNA and influence its activity. This may then finally allow curing hepatitis B. The overarching goal of this project is to understand cccDNA establishment, integrity and control in molecular detail to allow therapeutic targeting of cccDNA, which is the Holy Grail in "HBV Cure" research.
Allweiss L, Testoni B, Yu M, Lucifora J, Ko C, Qu B, Lütgehetmann M, Guo H, Urban S, Fletcher SP, Protzer U, Levrero M, Zoulim F, Dandri M. (2023) Quantification of the hepatitis B virus cccDNA: evidence-based guidelines for monitoring the key obstacle of HBV cure. Gut. 72(5):972-983. doi: 10.1136/gutjnl-2022-328380.Hofmann S, Plank V, Groitl P, Skvorc N, Hofmann K, Luther J, Ko C, Zimmerman P, Bruss V, Stadler D, Carpentier A, Rezk S, Nassal M, Protzer U, Schreiner S. (2023) SUMO Modification of Hepatitis B Virus Core Mediates Nuclear Entry, Promyelocytic Leukemia Nuclear Body Association, and Efficient Formation of Covalently Closed Circular DNA. Microbiol Spectr. 18:e0044623. doi: 10.1128/spectrum.00446-23.Esser K, Cheng X, Wettengel JM, Lucifora J, Hansen-Palmus L, Austen K, Roca Suarez AA, Heintz S, Testoni B, Nebioglu F, Pham MT, Yang S, Zernecke A, Wohlleber D, Ringelhan M, Broxtermann M, Hartmann D, Hüser N, Mergner J, Pichlmair A, Thasler WE, Heikenwalder M, Gasteiger G, Blutke A, Walch A, Knolle PA, Bartenschlager R, Protzer U. (2023) Hepatitis B virus targets lipid transport pathways to infect hepatocytes,Cellular and Molecular Gastroenterology and Hepatology, 2023,ISSN 2352-345X,https://doi.org/10.1016/j.jcmgh.2023.03.011.Tu T, Zehnder B, Wettengel JM, Zhang H, Coulter S, Ho V, Douglas MW, Protzer U, George J, Urban S. (2022) Mitosis of hepatitis B virus-infected cells in vitro results in uninfected daughter cells. JHEP Rep. 15;4(9):100514. doi: 10.1016/j.jhepr.2022.100514.Kim ES, Zhou J, Zhang H, Marchetti A, van de Klundert M, Cai D, Yu X, Mitra B, Liu Y, Wang M, Protzer U, Guo H. (2022) Hepatitis B virus X protein counteracts high mobility group box 1 protein-mediated epigenetic silencing of covalently closed circular DNA. PLoS Pathog. 9;18(6):e1010576. doi: 10.1371/journal.ppat.1010576. Wratil PR, Stern M, Priller A, Willmann A, Almanzar G, Vogel E, Feuerherd M, Cheng CC, Yazici S, Christa C, Jeske S, Lupoli G, Vogt T, Albanese M, Mejías-Pérez E, Bauernfried S, Graf N, Mijocevic H, Vu M, Tinnefeld K, Wettengel J, Hoffmann D, Muenchhoff M, Daechert C, Mairhofer H, Krebs S, Fingerle V, Graf A, Steininger P, Blum H, Hornung V, Liebl B, Überla K, Prelog M, Knolle P, Keppler OT, Protzer U. (2022) Three exposures to the spike protein of SARS-CoV-2 by either infection or vaccination elicit superior neutralizing immunity to all variants of concern. Nat Med. 28(3):496-503. doi: 10.1038/s41591-022-01715-4.Koerber N, Priller A , Yazici S, Bauer T, Cheng CC, Mijočević H, Wintersteller H, Jeske S, Vogel E, Feuerherd M, Tinnefeld K, Winter C, Ruland J, Gerhard M, Haller B, Christa C, Zelger O, Roggendorf H, Halle M, Erber J, Lingor P, Keppler O, Zehn D, Protzer U, Knolle PA. (2022) Dynamics of spike-and nucleocapsid specific immunity during long-term follow-up and vaccination of SARS-CoV-2 convalescents. Nat Commun 13, 153. https://doi.org/10.1038/s41467-021-27649-y.Bunse T, Kosinska AD, Michler T, Protzer U. (2022) PD-L1 silencing in liver using siRNAs enhances efficacy of therapeutic vaccination for chronic Hepatitis B. Biomolecules. 18;12(3):470. doi: 10.3390/biom12030470.Wagner KI, Mateyka LM, Jarosch S, Grass V, Weber S, Schober K, Hammel M, Burrell T, Kalali B, Poppert H, Beyer H, Schambeck S, Holdenrieder S, Strötges-Achatz A, Haselmann V, Neumaier M, Erber J, Priller A, Yazici S, Roggendorf H, Odendahl M, Tonn T, Dick A, Witter K, Mijočević H, Protzer U, Knolle PA, Pichlmair A, Crowell CS, Gerhard M, D'Ippolito E, Busch DH. (2022) Recruitment of highly cytotoxic CD8+ T cell receptors in mild SARS-CoV-2 infection. Cell Rep. 11;38(2):110214. doi: 10.1016/j.celrep.2021.110214.Altstetter SM, Quitt O, Pinci F, Hornung V, Lucko A.M, Wisskirchen K, Jung S, Protzer U. (2021) Hepatitis-D virus infection is not impaired by innate immunity but increases cytotoxic T-Cell activity cells. 10(11): 3253. doi: 10.3390/cells10113253.Knolle PA, Huang LR, Kosinska A, Wohlleber D, Protzer U. (2021) Improving therapeutic vaccination against Hepatitis B-insights from preclinical models of immune therapy against persistent Hepatitis B virus infection. Vaccines (Basel). 16;9(11):1333. doi: 10.3390/vaccines9111333.Quitt O, Luo S, Meyer M, Xie Z, Golsaz-Shirazi F, Loffredo-Verde E, Festag J, Bockmann JH, Zhao L, Stadler D, Chou WM, Tedjokusumo R, Wettengel JM, Ko C, Noeßner E, Bulbuc N, Shokri F, Lüttgau S, Heikenwälder M, Bohne F, Moldenhauer G, Momburg F, Protzer U. (2021) T-cell engager antibodies enable T cells to control HBV infection and to target HBsAg-positive hepatoma in mice. J Hepatol. 75(5):1058-1071. doi: 10.1016/j.jhep.2021.06.022.Faure-Dupuy S, Riedl T, Rolland M, Hizir Z, Reisinger F, Neuhaus K, Schuehle S, Remouchamps C, Gillet N, Schönung M, Stadler M, Wettengel J, Barnault R, Parent R, Schuster LC, Farhat R, Prokosch S, Leuchtenberger C, Öllinger R, Engleitner T, Rippe K, Rad R, Unger K, Tschaharganeh D, Lipka DB, Protzer U, Durantel D, Lucifora J, Dejardin E, Heikenwälder M. (2021) Control of APOBEC3B induction and cccDNA decay by NF-κB and miR-138-5p. JHEP Rep. 25;3(6):100354. doi: 10.1016/j.jhepr.2021.100354.Oswald A, Chakraborty A, Ni Y, Wettengel JM, Urban S, Protzer U. (2021) Concentration of Na+-taurocholate-cotransporting polypeptide expressed after in vitro-transcribed mRNA transfection determines susceptibility of hepatoma cells for hepatitis B virus. Sci Rep. 5;11(1):19799. doi: 10.1038/s41598-021-99263-3.Kosinska AD, Festag J, Mück-Häusl M, Festag MM, Asen T, Protzer U. (2021) Immunogenicity and antiviral response of therapeutic Hepatitis B vaccination in a mouse model of HBeAg-negative, persistent HBV infection. Vaccines (Basel). 9(8): 841. doi: 10.3390/vaccines908084.Wettengel JM, Linden B, Esser K, Laue M, Burwitz BJ, Protzer U. (2021) Rapid and robust continuous purification of high-titer Hepatitis B virus for in vitro and in vivo applications. Viruses. 13(8): 1503. doi: 10.3390/v13081503.Stadler D, Kächele M, Jones AN, Hess J, Urban C, Schneider J, Xia Y, Oswald A, Nebioglu F, Bester R, Lasitschka F, Ringelhan M, Ko C, Chou WM, Geerlof A, van de Klundert MA, Wettengel JM, Schirmacher P, Heikenwälder M, Schreiner S, Bartenschlager R, Pichlmair A, Sattler M, Unger K, Protzer U. (2021) Interferon-induced degradation of the persistent hepatitis B virus cccDNA form depends on ISG20. EMBO Rep. 4;22(6):e49568. doi: 10.15252/embr.201949568.Stukalov A, Girault V, Grass V, Karayel O, Bergant V, Urban C, Haas DA, Huang Y, Oubraham L, Wang A, Hamad MS, Piras A, Hansen FM, Tanzer MC, Paron I, Zinzula L, Engleitner T, Reinecke M, Lavacca TM, Ehmann R, Wölfel R, Jores J, Kuster B, Protzer U, Rad R, Ziebuhr J, Thiel V, Scaturro P, Mann M, Pichlmair A. (2021) Multilevel proteomics reveals host perturbations by SARS-CoV-2 and SARS-CoV. Nature. 594(7862):246-252. doi: 10.1038/s41586-021-03493-4. Riedl T, Faure-Dupuy S, Rolland M, Schuehle S, Hizir Z, Calderazzo S, Zhuang X, Wettengel J, Lopez MA, Barnault R, Mirakaj V, Prokosch S, Heide D, Leuchtenbergeg C, Schneider M, Heßling B, Stottmeier B, Wessbecher IM, Schirmacher P, McKeating JA, Protzer U, Durantel D, Lucifora J, Dejardin E, Heikenwalder M. (2021) Hepatology. 74(4):1766-1781. doi: 10.1002/hep.31902.Jung S, Jacobs K, Shein M, Schütz AK, Mohr F, Stadler H, Stadler D, Lucko AM, Altstetter SM, Wilsch F, Deng L, Protzer U. (2020). Efficient and reproducible depletion of hepatitis B virus from plasma derived extracellular vesicles. J Extracell Vesicles. 10(2), e12040. https://doi.org/10.1002/jev2.12040Namineni S, O'Connor T, Faure-Dupuy S, Johansen P, Riedl T, Liu K, Xu H, Singh I, Shinde P, Li F, Pandyra A, Sharma P, Ringelhan M, Muschaweckh A, Borst K, Blank P, Lampl S, Durantel D, Farhat R, Weber A, Lenggenhager D, Kündig TM, Staeheli P, Protzer U, Wohlleber D, Holzmann B, Binder M, Breuhahn K, Assmus LM, Nattermann J, Abdullah Z, Rolland M, Dejardin E, Lang PA, Lang KS, Karin M, Lucifora J, Kalinke U, Knolle PA, Heikenwalder M. 2020. A dual role for hepatocyte-intrinsic canonical NF-κB signaling in virus control. J Hepatol. 72(5):960-975. (TP05, TP06, TP11, TP13, TP14)Wisskirchen K*, Kah J*, Malo A, Asen T, Volz T, Allweiss L, Wettengel JM, Lütgehetmann M, Urban S, Bauer T, Dandri M*, Protzer U*. 2019. T-Cell Receptor Grafting allows Virological Control of Hepatitis B Virus Infection. J Clin Invest. 129(7):2932-2945. * equal contribution.Xia Y, Schlapschy M, Morath⁠ V, Roeder N⁠, Vogt EI, Stadler D⁠, Cheng X⁠⁠, Dittmer U⁠, Sutter K⁠, Heikenwalder M⁠, Skerra A⁠, Protzer U. 2019. PASylated interferon α efficiently suppresses hepatitis B virus and induces anti-HBs seroconversion in HBV-transgenic mice. Antiviral Research. 161:134-143Bockmann JH, Stadler D, Xia Y, Ko C, Wettengel JM, Schulze zur Wiesch J, Dandri M, Protzer U. 2019. Compar-ative analysis of the antiviral effects mediated by type I and III interferons in hepatitis B virus infected hepato-cytes. J Inf Dis 220(4):567-577Wing P, Davenne T, Wettengel J, Lai AG, Zhuang X, Chakraborty A, D'Arienzo V, Kramer C, Ko C, Harris LM, Schreiner S, Higgs M, Roessler S, Parish JL, Protzer U, Balfe P, Rehwinkel J, McKeating J.2019. A dual role for SAMHD1 in regulating HBV cccDNA and RT-dependent particle genesis. Life Sci Alliance. 2(2).Manske K, Kallin N, König V, Schneider A, Kurz S, Bosch M, Welz M, Cheng RL, Bengsch B, Steiger K, Protzer U, Thimme R, Knolle PA, Wohlleber D. 2018. Outcome of anti-viral immunity in the liver is shaped by the level of an-tigen expressed in infected hepatocytes. Hepatology. 8(6):2089-2105.Ko C, Chakraborty A, Chou WM, Hasreiter J, Wettengel JM, Stadler D, Bester R, Asen T, Zhang K, Wisskirchen K, McKeating JA, Ryu WS, Protzer U. 2018. Hepatitis B virus genome recycling and de novo secondary infection events maintain stable cccDNA levels. J Hepatol. 69(6):1231-1241.Burwitz B*, Wettengel J*, Mück-Häusl M, Ringelhan M, Ko C, Festag MM, Hammond KB, Northrup M, Bimber BN, Jacob T, Reed JS, Reed N, Park B, Moller-Tank S, Esser K, Greene JM, Wu HL, Abdulhaqq S, Webb G, Sutton WF, Klug A, Swanson T, Legasse AW, Vu TQ, Asokan A, Haigwood NL, Protzer U*, Sacha J*. 2017. Hepatocytic Expression of Human Sodium-Taurocholate Cotransporting Polypeptide Enables Hepatitis B Virus Infection of Macaques. Nat Commun. 8(1): 2146. * equal contribution.Li Y*, Xia Y*, Han M, Chen G, Zhang D, Thasler W, Protzer U*, Ning Q*. 2017. IFN-α-mediated Base Excision Repair Pathway Correlates with Antiviral Response Against HBV Infection. Sci Rep. 7(1):12715. * equal contribu-tion.Xia Y*, Stadler D*, Lucifora J, Reisinger F, Webb D, Hösel M, Michler T, Wisskirchen K, Cheng X, Zhang K, Chao W-M, Wettengel J, Malo A, Bohne F, Hoffmann D, Eyer F, Thimme R, Thasler WE, Heikenwalder M, Protzer U. 2016. Interferon-γ and Tumor Necrosis Factor-α Produced by T cells Reduce the HBV Persistence Form, cccDNA, Without Cytolysis. Gastroenterology. 150(1):194-202.Lucifora J*, Xia Y*, Reisinger F, Zhang K, Stadler D, Cheng X, Sprinzl M, Koppensteiner H, Li Y, Makowska Z, Volz T, Remouchamps C, Chou W-M, Thasler W, Hüser N, Durantel D, Münk C, Heim MH, Browning JL, Dejardin E, Dandri M, Schindler M, Heikenwalder M*, Protzer U*. 2014. Specific and non-hepatotoxic degradation of nuclear hepatitis B virus cccDNA. Science 343(6176):1121-1128. * equal contribution.