Project Description
Public­ations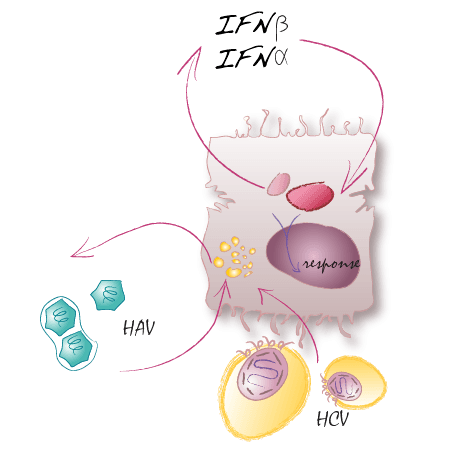 TP17:
Contribution of innate immune responses to persistence versus clearance of hepatitis C virus and hepatitis A virus infections
TP17 studies the determinants of clearance and persistence of hepatitis A virus (HAV) and hepatitis C virus (HCV) infections, focusing on toll-like receptor 3 (TLR3). We have unravelled a novel TLR3 escape mechanism employed by HCV, studied induction and counteraction of the TLR3 pathway by HCV and HAV and identified novel cellular factors involved in TLR3 response. In the next funding period we want to study the transport mechanisms of HCV and HAV double stranded RNA activating TLR3 or avoiding it. The project further aims to define TLR3 specific response patterns and interactomes to understand the contribution of this pathway to persistence of hepatotropic viruses.
Colasanti O, Burm R, Huang HE, Riedl T, Traut J, Gillich N, Li TF, Corneillie C, Faure-Dupuy S, Grünvogel O, Heide D, Lee JY, Tran CS, Merle U, Chironna M, Vondran FWF, Esser-Nobis K, Binder M, Bartenschlager R, Heikenwälder M, Meuleman P, Lohmann V. (2023) Comparison of HAV and HCV infections in vivo and in vitro reveals distinct patterns of innate immune evasion and activation. J Hepatol. 28;S0168-8278(23)00309-4. doi: 10.1016/j.jhep.2023.04.023.Chen P, Wojdyla JA, Colasanti O, Li Z, Qin B, Wang M, Lohmann V, Cui S. (2022) Biochemical and structural characterization of hepatitis A virus 2C reveals an unusual ribonuclease activity on single-stranded RNA. Nucleic Acids Res. 10:gkac671. doi: 10.1093/nar/gkac671.Heuss C, Rothhaar P, Burm R, Lee JY, Ralfs P, Haselmann U , Ströh LJ, Colasanti O, Tran CS, Schäfer N, Schnitzler P, Merle U, Bartenschlager R, Patel A, Graw F, Krey T, Laketa V, Meuleman P, Lohmann V. (2022) A Hepatitis C virus genotype 1b post-transplant isolate with high replication efficiency in cell culture and its adaptation to infectious virus production in vitro and in vivo. PLOS Pathogens 18(6): e1010472. https://doi.org/10.1371/journal.ppat.1010472.Silva DN, Chrobok M, Rovesti G, Healy K, Wagner AK, Maravelia P, Gatto F, Mazza M, Mazzotti L, Lohmann V, Sällberg Chen M, Sällberg M, Buggert M, Pasetto A. (2022) Process Development for Adoptive Cell Therapy in Academia: A Pipeline for Clinical-Scale Manufacturing of Multiple TCR-T Cell Products. Front Immunol. 13:896242. doi: 10.3389/fimmu.2022.896242.Tabata K, Prasad V, Paul D, Lee JY, Pham MT, Twu WI, Neufeldt CJ, Cortese M, Cerikan B, Stahl Y, Joecks S, Tran CS, Lüchtenborg C, V'kovski P, Hörmann K, Müller AC, Zitzmann C, Haselmann U, Beneke J, Kaderali L, Erfle H, Thiel V, Lohmann V, Superti-Furga G, Brügger B, Bartenschlager R. (2021) Convergent use of phosphatidic acid for hepatitis C virus and SARS-CoV-2 replication organelle formation. Nat Commun. 14;12(1):7276. doi: 10.1038/s41467-021-27511-1. Chen Q, Coto-Llerena M, Suslov A, Teixeira RD, Fofana I, Nuciforo S, Hofmann M, Thimme R, Hensel N, Lohmann V, Ng CKY, Rosenberger G, Wieland S, Heim MH. (2021) Interferon lambda 4 impairs hepatitis C viral antigen presentation and attenuates T cell responses. Nat Commun. 12;12(1):4882. doi: 10.1038/s41467-021-25218-x.Grünvogel O, Colasanti O, Lee JY, Klöss V, Belouzard S, Reustle A, Esser-Nobis K, Hesebeck-Brinckmann J, Mutz P, Hoffmann K, Mehrabi A, Koschny R, Vondran FWR, Gotthardt D, Schnitzler P, Neumann-Haefelin C, Thimme R, Binder M, Bartenschlager R, Dubuisson J, Dalpke AH, Lohmann V. 2018. Secretion of Hepatitis C Virus Replication Intermediates Reduces Activation of Toll-Like Receptor 3 in Hepatocytes. Gastroenterology. 154(8):2237-2251.e16. Lohmann V. 2019. Hepatitis C virus cell culture models: an encomium on basic research paving the road to therapy development. Med Microbiol Immunol. 208(1):3-24. ReviewCosta R, Todt D, Zapatero-Belinchón F, Schenk C, Anastasiou OE, Walker A, Hertel B, Timmer L, Bojkova D, Ruckert M, Sarrazin C, Timm J, Lohmann V, Manns MP, Steinmann E, von Hahn T, Ciesek S. 2019. SEC14L2, a lipid-binding protein, regulates HCV replication in culture with inter- and intra-genotype variations. J Hepatol. 70(4):603-614. Pollmann J, Götz JJ, Rupp D, Strauss O, Granzin M, Grünvogel O, Mutz P, Kramer C, Lasitschka F, Lohmann V, Björkström NK, Thimme R, Bartenschlager R, Cerwenka A. 2018. Hepatitis C virus-induced natural killer cell proliferation involves monocyte-derived cells and the OX40/OX40L axis. J Hepatol. 68(3):421-430. Harak C, Meyrath M, Romero-Brey I, Schenk C, Gondeau C, Schult P, Esser-Nobis K, Saeed M, Neddermann P, Schnitzler P, Gotthardt D, Perez-Del-Pulgar S, Neumann-Haefelin C, Thimme R, Meuleman P, Vondran FW, Francesco R, Rice CM, Bartenschlager R, Lohmann V. 2017. Tuning a cellu-lar lipid kinase activity adapts hepatitis C virus to replication in cell culture. Nat Microbiol. 2:17012.Klöss V, Grünvogel O, Wabnitz G, Eigenbrod T, Ehrhardt S, Lasitschka F, Lohmann V, Dalpke AH. 2017. Interaction and Mutual Activation of Different Innate Immune Cells Is Necessary to Kill and Clear Hepatitis C Virus-Infected Cells. Front Immunol. 8:1238. Willemsen J, Wicht O, Wolanski JC, Baur N, Bastian S, Haas DA, Matula P, Knapp B, Meyniel-Schicklin L, Wang C, Bartenschlager R, Lohmann V, Rohr K, Erfle H, Kaderali L, Marcotrigiano J, Pichlmair A, Binder M. 2017. Phosphorylation-Dependent Feedback Inhibition of RIG-I by DAPK1 Identified by Ki-nome-wide siRNA Screening. Mol Cell. 65(3):403-415.e8. Esser-Nobis K, Harak C, Schult P, Kusov Y, Lohmann V. 2015. Novel perspectives for hepatitis A virus therapy revealed by comparative analysis of hepatitis C virus and hepatitis A virus RNA rep-lication. Hepatology 62(2):397-408Serti E, Werner JM, Chattergoon M, Cox AL, Lohmann V, Rehermann B. 2014. Monocytes activate natural killer cells via inflammasome-induced interleukin 18 in response to hepatitis C virus replication. Gastroenterology 147(1): 209-220.Jo J, Aichele U, Kersting N, Klein R, Aichele P, Bisse E, Sewell AK, Blum HE, Bartenschlager R, Loh-mann V*, Thimme R*. 2009. Analysis of CD8+ T-cell-mediated inhibition of HCV replication using a novel immunological model. Gastroenterology 136(4):1391-401.*Co-corresponding authors.